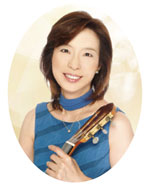 Harumi Nakajima was born in Tokyo, and started learning classical guitar with Mitsuo Takahashi from the age of 12 years old and continued her studies with Yoshitaka Tsukimura, Nobutaka Nakagawa. & Tsuneo Ema.She started performing in public at the age of 14 with appearances on NHK TV, Asahi TV and held numerous concerts in New York and throughout Japan.

She started to teach guitar from the age of 18 years old when she was a student at Nihon Joshi Daigaku, Tokyo.

In 1975 She attended Master classes as a soloist with Ernest Bitteti.

From 1981-1984 she studied classical Guitar, theory & Guitar ensemble with Jamie Williams, and James Lorusso at The Westchester conservatory of Music & Mercy College (New York)

The Westchester Musician's Guild invited her to be the first foreign member, and from 1982 she held concerts with Helen Wade a Vocalist and Guitarist in New York.

After returning to Japan, she continued to perform as a soloist, along with conducting guitar ensembles and teaching guitar.

In Japan Harumi Nakajima earned lots of attention as one of the most active and energetic female guitarists not only as an artist but also as a producer.

In 1994 she held a concert with Scott Tenant & Andrew York as an invited member of Guitar ensemble Oz. organized by The Japan Guitar Ensemble Association

In 1995 Andrew York composed [HARUMI] and dedicated it to her.

*The 1st and.2nd Movements of HARUMI in LAGQ 2 CDs are available from Sony: B00000AG7F, B00005G8N5

In 1995 She organized a guitar ensemble to attend the LAGQ master class .as a concert master, and in 1996 she organized The Guitar Quartet to attend Master class with LAGQ

In both 1998 and 2000 she won 2nd prize in the Guitar ensemble contest organized by The Japan Guitar Ensemble Association and Japan Federation of Guitarist.

In 1998 She held The Guitar Quartet recital and in 2000 She held a Solo Guitar recital and also formed@the Tokyo Guitar Ensemble.

In 2001 She formed@The Tokyo Guitar Ensemble M group and has since been invited to attend several international guitar festivals and has won many awards such as the one presented by the Mayor of the Osaka Government.

She produced the Tokyo Guitar Ensemble Lecture series with the Meguro Guitar Forum

Her guitar lessons are available at her private studio in Meguro, The Yomiuri cultural Center in Jiyugaoka • Omori (Tokyo), Kawaguchi (Saitama) and in Kashiwa( Chiba).